The Big Birds

Sweet, but with big scary beaks!

Graydee Prescott is a baby African Grey Parrot.  She already plans to be a better talker than those Amazons on the poster behind her.

Updated On: 10/15/2007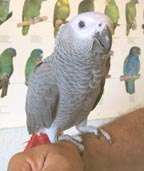 SEE YOUR BIRD'S PICTURE ON THIS PAGE!  JUST EMAIL YOUR PHOTO TO BURGEBIRDSERV@KC.RR.COM, OR ASK US TO TAKE A PHOTO WITH OUR DIGITAL CAMERA NEXT TIME WE SEE YOUR BIRD.

(SORRY, THIS PAGE IS FOR OUR PATIENTS ONLY.)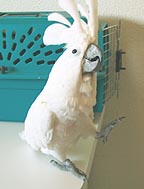 Angel McKinney, an Umbrella Cockatoo, lived up to his name at his last trimming.  Here he is showing off his newly filed nails.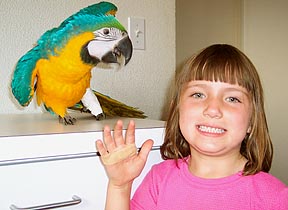 Bubba and his friend Amber Dalton can trade bandaging stories after Bubba had to get his ankle taped.  He escaped from his cage and hurt himself somehow when nobody was home.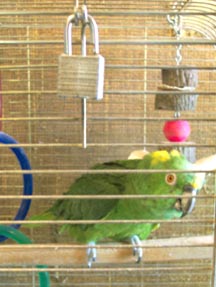 The first time he met the bird doctor, Pedro Beckford flew across the room to attack her.  Now he has a padlock on his cage.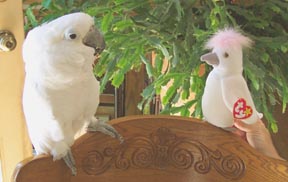 Casey Apel was shocked to learn that his Mom had brought home yet another bird to join the flock.  Although the new bird was named Beanie, Casey always thought of it as Mini Me.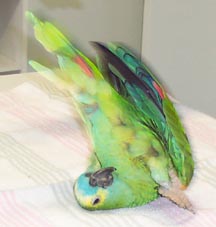 Pepper Harvey is showing off one of his tricks by mooning the bird doctor after his appointment.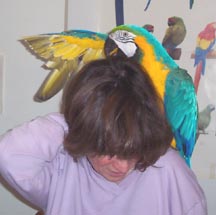 One of the problems with letting a macaw on your shoulder is trying to get them back off.  Our thanks to Callie Graven for demonstrating.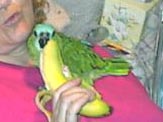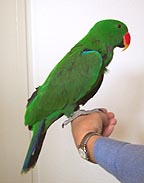 Patrick Allenbaugh is a male Eclectus, which is obvious if you know that female Eclectus Parrots are red and blue while the males are green.


Baby Pyle may be a Red Lored Amazon, or she may be a rare subspecies known as a Salvin's Amazon.  Only Baby knows for sure, and she's not telling.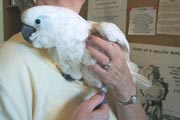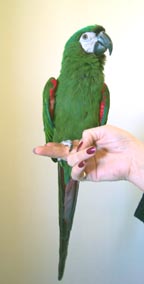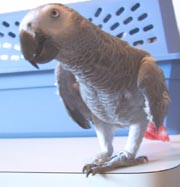 Wanting to get a closer look at the camera is Paulie Borliska.  Her favorite game is calling the dog and telling him to be quiet when he barks.

After her trimming appointment, Holly Vaughn the Umbrella Cockatoo snuggled up to Mom for some comforting "wing pit" tickles.

Here is Emmy Young, looking very much like he is posing for a portrait of the perfect specimen of Severe Macaw.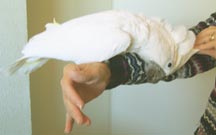 Another cuddly Umbrella Cockatoo, Frost Fletcher, feels all better after his grooming when he gets his head scratched.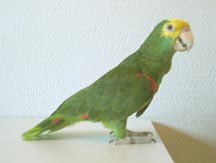 Patty Cake Alter, a Double Yellow Head Amazon, will be making her brother Gus, the Red Lored Amazon, jealous since she is now on the Internet.

Jack Beaman, a male Eclectus, could not be shown without the towel since he plucks himself nearly naked and this is a family oriented site.  Aren't his head feathers lovely?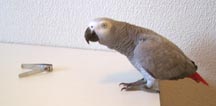 Skyler Campbell , an African Grey, eyes the nail clippers and knows what we have in mind for her bird spa visit today.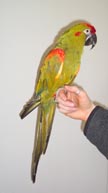 The only thing George Minor, the Red Fronted Macaw, said during his last visit was "Quit it!"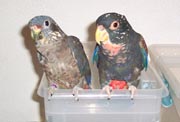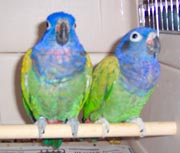 Meet the four new Peterson Pionus Parrots: a Dusky, a Bronze Wing and two Blue Heads.  They are a little smaller than Amazons, and a lot quieter.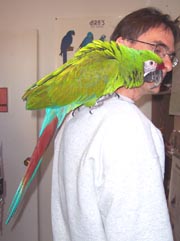 Darwin Petrovski is not really a hunchbacked parrot.  He is a Military Macaw who is happy to see his Daddy back from vacation and is warning the bird doctor to stay away.

Burge Bird Services

Julie Burge, DVM

13833 S. 71 Hwy

Grandview, MO  64030

(816) 356-4700