IS IT OKAY TO KISS MY BIRD AND LET HIM SHARE MY DINNER?

CLOSE THIS PAGE TO RETURN TO OTHER QUESTIONS

I spend a lot of time talking to people about this subject because so many people have sweet, loving birds and it seems natural to want to kiss them.  If you had been bitten on the face as many times as I have, you'd probably be a bit more reluctant to expose your tender flesh that way.  The biggest danger in kissing is the risk to your bird's health.  While they will not catch our viruses like colds and flu, they frequently get bacterial infections since our normal bacteria is very different from what birds are supposed to have. I would suggest teaching your bird to kiss you on the cheek and never letting him eat food that has your germs on it.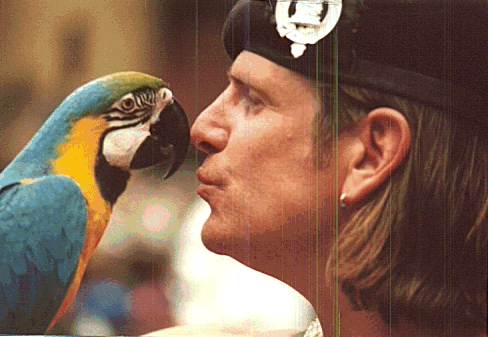 If you are going to kiss a parrot, just rub noses like an Eskimo, or do the "high society" kissing on the cheek technique.  Here, Jeanna Marie, the Princess of Parrots, kisses a handsome Scotsman at the Kansas City Renaissance Festival.  See more pictures of her flirting at the KCRenFest.
Burge Bird Services

Julie Burge, DVM

13833 S. 71 Hwy

Grandview, MO 64030

(816) 356-4700

http://BurgeBirdServices.homestead.com