The Little Birds

With big personalities!

Meet Nipper Wrinkle, a Quaker Parakeet.  He comes in regularly for his hairstyling appointment.  He doesn't really nip that much!

Updated On: 10/15/2007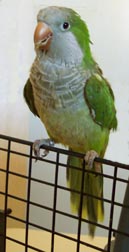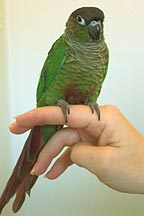 This is Sweetie Hardwick, a Green Cheek Conure.  She was one of our handfed babies.  She usually tries to live up to her name.

SEE YOUR BIRD'S PICTURE ON THIS PAGE!  JUST EMAIL YOUR PHOTO TO BURGEBIRDSERV@CS.COM, OR ASK US TO TAKE A PHOTO WITH OUR DIGITAL CAMERA NEXT TIME WE SEE YOUR BIRD.

(SORRY, THIS PAGE IS FOR OUR PATIENTS ONLY.)


May Lee and Rob Sharp share their lives with these 4 adorable babies.  The first and fourth birds are cockatiels, the two in the middle are lovebirds.  The owner designed this layout herself.  Everyone is welcome to create their own bird's photo display and send it to us.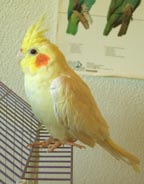 Our congratulations to Scrappy Walter, a lutino cockatiel who has finally decided to grow a tail!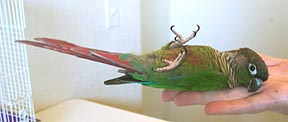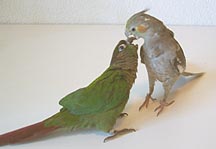 Cisco Harvey displays one of his over 35 tricks, passing out when the bird doctor wanted to examine him.  He is one of Burge Bird Service's babies.

Sapphire the Green Cheek and Precious the Cockatiel display sibling rivalry behavior, making the Meadows home a bit chaotic.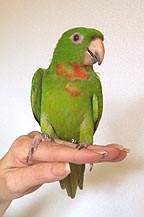 Marie Ortega is another of our babies, a Red Throated Conure, and a super sweetheart.  We have some of her siblings for sale!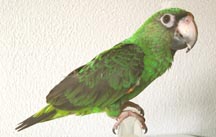 This is Mack Hanks, a Jardine's Parrot, a fairly rare species.  We think Mack may be a girl, but will have to wait for the DNA blood test to be sure.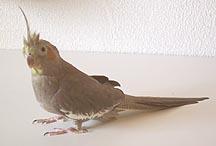 In another case of gender confusion, Sebastian VanDeVyvere was named as a baby before her adult markings and egg laying habit appeared.

Smoochie Turner the Meyers Parrot is on the alert, ready to give the bird doctor a smooch she will never forget!

Oscar Casement is a Quaker Parrot who loves to whistle Jingle Bells among other tunes.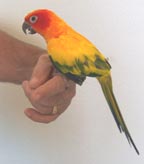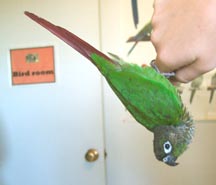 Yes, it's another Green Cheek Conure!  This is Sammi Lawson, demonstrating his or her favorite position to hang out in.

For a change of pace from Green Cheeks, Sunny Abbott is a Sun Conure, the most brightly colored bird in the conure family.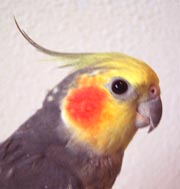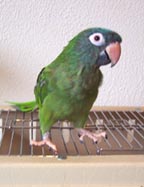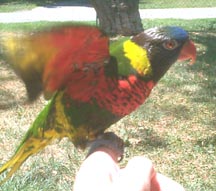 Morgan Littig has the brightest orange cheek patches you can find.  He loves to wolf whistle at the ladies in his neighborhood.

Say hello to Houdini Davis, one of our baby Blue Crown Conures.  He is a bit ruffled after his trimming, but accepted head scratches anyway.

Sophie Altis the Rainbow Lory demonstrates how most birds react when they see the bird doctor coming with the towel.  Those wings are a blur of motion!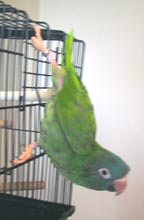 Zack Blum is another of our baby Blue Crown Conures.  He enjoyed hanging out at the office watching his two cockatoo siblings get their trimmings.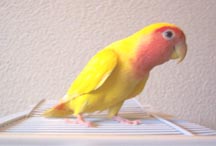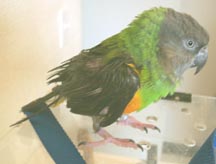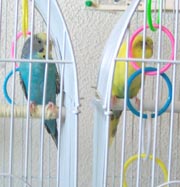 Fiji Rouchka, the lutino peachface lovebird, has developed a romantic relationship with one of his toys.  Boys will be boys!

Peanut Riffee is a Senegal Parrot that learned a lesson about fly strips.  It took trimming his wings, a solvent, and a bath to get him clean.

The Jefferies birds, Rupert and Pipsi, discuss their plans for avoiding the bird doctor and her towel. If only they had wing feathers to escape with!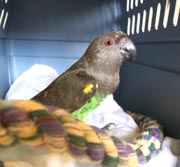 Cosmo Brooks, a Meyer's Parrot, has decided that the carrier is a better place to be than out on the table in the bird doctor's office.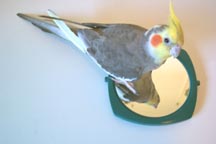 Gabby Loomis enjoys admiring himself in his mirror and practicing the "Andy Griffith" theme song.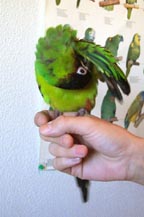 Baby Nanday #26, as he was known among our babies, will soon have a new name since joining the Johnson household.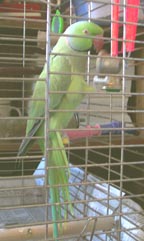 He thought he knew all about this new technology, but Sammy Hunt got himself a "bell phone" instead of a cell phone!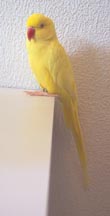 Is it a banana with wings or a lutino Indian Ringneck?  Oh, it's the appropriately named Sunshine Bode.

Burge Bird Services

Julie Burge, DVM

13833 S. 71 Hwy

Grandview, MO  64030

(816) 356-4700