Updated On: 10/15/2007
Meet the Calvin Conures, Nina the Dusky and Bursten the Sun.  Mom wears her special "bird shirt" when they come out to play.

MORE TINY TERRORS

WITH BIG PERSONALITIES!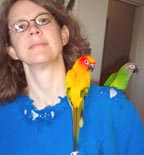 SEE YOUR BIRD'S PICTURE ON THIS PAGE!  JUST EMAIL YOUR PHOTO TO BURGEBIRDSERV@CS.COM, OR ASK US TO TAKE A PHOTO WITH OUR DIGITAL CAMERA NEXT TIME WE SEE YOUR BIRD.

(SORRY, THIS PAGE IS FOR OUR PATIENTS ONLY.)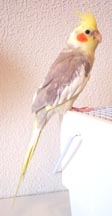 YoYo Hunt apparently thinks she is Madonna, since her favorite passtime is to watch herself as she dances in front of a mirror.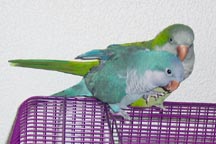 Miss Blue and Polly Seymour were kind enough to pose for us to demonstrate the two colors that Quaker Parrots can be.  Miss Blue is checking out her nail trim.


While showing off his long, long, long tail, Max McCreary the Indian Ringneck suddenly notices the approach of the bird doctor and her trimming tools.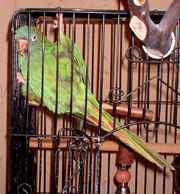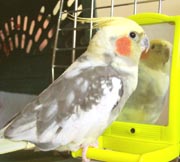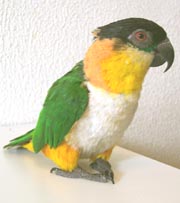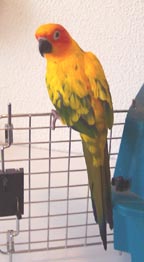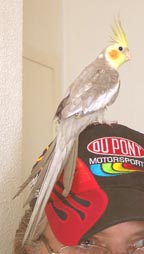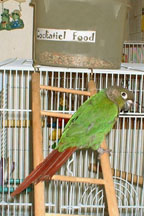 Khaki Carnal is a Black Headed Caique.  They are fairly rare as pets, and are often real clowns that learn tricks readily.

When Mom wasn't looking, Rio Etter the Green Cheek Conure decided to raid the cockatiel seed that had been left open.

Here is KC Hanson, checking out his reflection, and thinking that there is no need for the doctor to trim him.  He already looks perfect!

Sun Conures are one of the most brightly colored parrots, as Norm Cahill was so kind to demonstrate.  Norm is actually short for Normal Bird Cahill.

Spice Sumpter thinks maybe perching on Dad's head will protect him from the towel and nail clippers he saw on the exam table.

Trey O'Dell the Blue Crowned Conure was hanging out, having a great day, until the arrival of the traveling bird doctor and her brown briefcase of doom!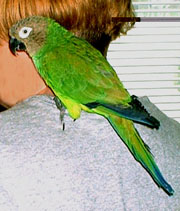 Dusky Conures are usually fairly quiet, but A.J. Goring here actually whispers instead of talking out loud or screaming!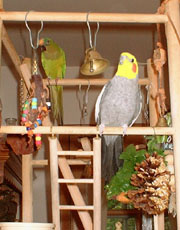 Lance the cockatiel is eyeing Cleo the Peach Fronted Conure.  She is not supposed to be on his playstand, causing turmoil in the Turpin household.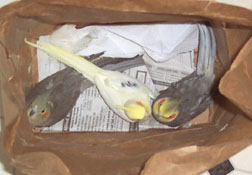 It was a supersize "bag-o-tiels" when the Yohn birds came in for their recent visit.  This is actually a safe way to transport small birds, since they can't hurt themselves in a bag.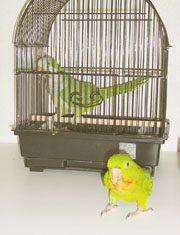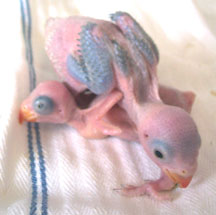 DJ Durbin the Red Throated Conure bravely volunteers to go first for grooming, while Lambeau the Quaker watches from the safety of his travel cage.

It is tough being the younger sibling, as the Gillespie's tiny Indian Ringneck chick is learning at an early age.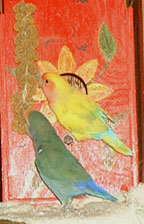 Benji and Hannah Garman enjoy a millet spray hung on the outside of their beautifully decorated nest box.  The birds are more brightly colored than the paint.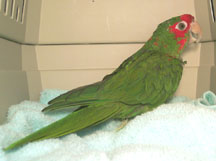 Mitred Conure Cisco Kline may not look happy, but he always feels better after getting his misaligned beak trimmed back to normal.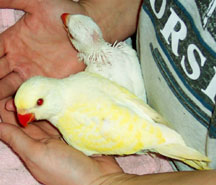 Here are two more Indian Ringneck chicks that live in the Poulter household.  One may be a new mutation, but we will have to wait to see if the pearl markings remain.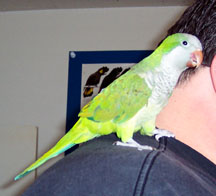 The Dolinar's Quaker has one of my favorite bird names of all time.  I'd like to introduce you to Boris Pecker.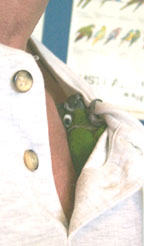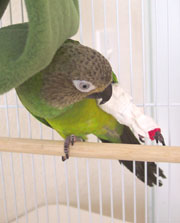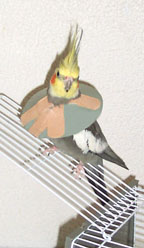 Snugles Chollet is in her favorite place in the whole world.  She figures the doctor would never dare to get her from inside Dad's shirt.

About once a year, Meeko Marshall gets crazy and chews a wound under his wing.  Fortunately, this fashionable collar allows him to heal quickly.

Since Trixie broke his leg while working as a recreational therapist at Truman Medical Center, he should qualify for workman's compensation.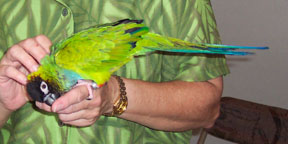 Dudley the Nanday gets rewarded with some head scratches for being such a good bird during her last beauty appointment.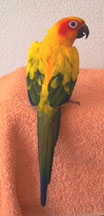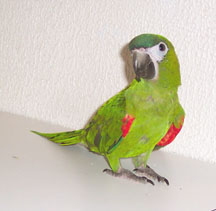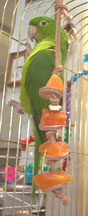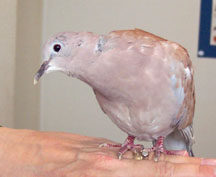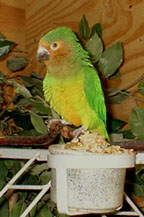 Just to prove we do work on some birds that are not in the parrot family, here is Spot Smith the Ringneck Dove eyeing the camera.

Ace Deere looks none the worse for her recent experience.  She chewed holes in the towel over her cage, stuck her head in one hole and out another, scaring her Mom half to death!

Do you think Sweet Pea Gibson the Brown Throated Conure has enough food in his dish?  He sure doesn't act like he wants anyone to approach it and steal any of it.

Unfortunately, Greenly Doggett was wider than the toy, and got to come out and get her nails and wings trimmed despite her best efforts to hide.

It was tough to decide whether to put Ducky Jones on the big bird page or the little bird page.  He is a Hahn's Macaw, the smallest species of the macaw family, and about the size of some conures.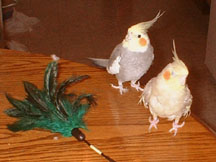 A.J. Orndorff eyes the feather duster, thinking that his crest feathers are prettier.  C.J. closed her eyes, wondering if her crest would be sacrificed to make a cleaning tool.

Burge Bird Services

Julie Burge, DVM

13833 S. 71 Hwy

Grandview, MO  64030

(816) 356-4700