More Tiny Terrors

with big personalities

Updated On: 12/11/2007
Bo Divis likes to sing and wave his foot around, but it appears that he is yelling at the baby cockatiels in the next picture to stop their whining and begging.

The Donahue household recently welcomed a clutch of five baby cockatiels, including one shy little lutino hiding in the back.

SEE YOUR BIRD'S PICTURE ON THIS PAGE!  JUST EMAIL YOUR PHOTO TO BURGEBIRDSERV@CS.COM, OR ASK US TO TAKE A PHOTO WITH OUR DIGITAL CAMERA NEXT TIME WE SEE YOUR BIRD.

(SORRY, THIS PAGE IS FOR OUR PATIENTS ONLY.)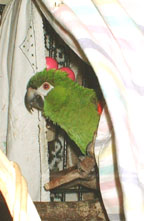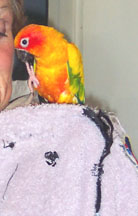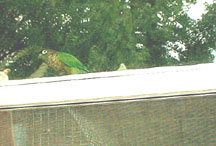 Pepper Skehen the Green Cheek Conure is well known in his neighborhood since his favorite spot is sitting on the window ledge watching for intruders.  Meanwhile, Hootie the Hahn's Macaw cowers inside his tent and only peaks out when he thinks it is safe.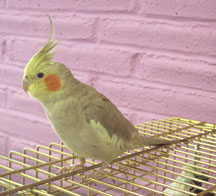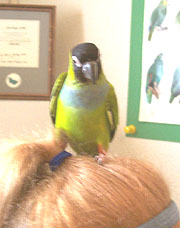 Buzzy Steenbergen's Mom has a special bird shirt she wears with buttons and patches and other fun toys sewn right on it.

Here is Maxie Burk ready to head home after spending a few days at "bird camp" here at our office.  She wonders why our camp doesn't have swimming and crafts!

The bird doctor has a dangerous job.  Here you can see her being attacked by Sydney Mulligan, the feisty little Nanday Conure, who pooped on her head.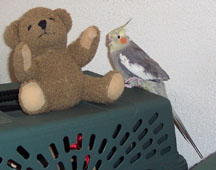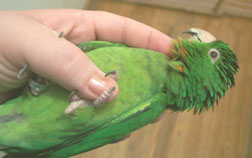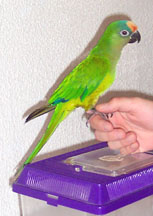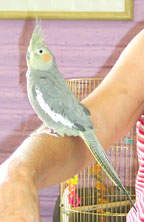 Shushu Hanson snuggles up with a friend for comfort after suffering the indignity of having her wings and nails trimmed against her will.

Pepper Thompson was one of our Red Throated Conure babies.  You can see how he enjoys laying back for a chin tickle from his former Mommy, the bird nurse.

Kiwi Audsley the Peachfront Conure is kind enough to warn his owner when he needs to go to the bathroom by saying "Kiwi weewee".

Millie Fults is a frequent visitor to bird camp.  We are grateful her owner no longer sends the talking mirror that tended to drive us nuts!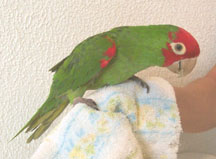 Lucy Pachy the Cherryhead Conure looks resigned to the fact that she is going to get her wings and nails trimmed.  She is very cooperative for it.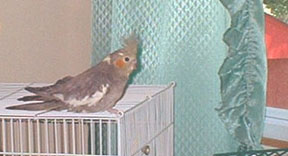 Despite an injury years ago that left her with a dislocated knee, Chacha Padilla enjoys climbing out on top of her cage and watching the action outside of the window.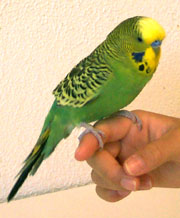 The Bruenger family's male parakeet was shocked to discover that budgerigar, the real name for his species, means "good eating" in the Aborigini language.

Parrotlets are very closely related to Amazon Parrots, but Scooter doesn't look too thrilled about his new sibling, Pickle.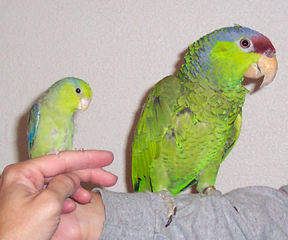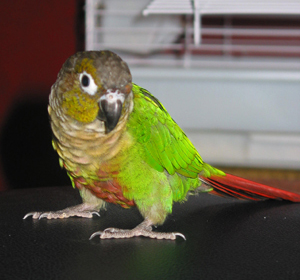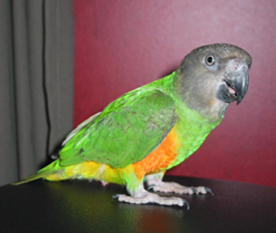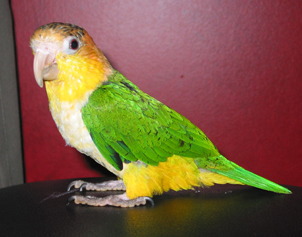 The Bogart family enjoys the company of their three little feathered friends: Sampson the Senegal, Kelly the Green Cheek Conure, and Solomon the Caique.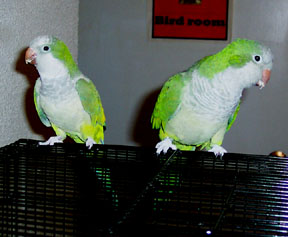 Baby Bird and Hoss Stone are both Quakers, but they are quite different sizes, and much different in personality too!

Burge Bird Services

Julie Burge, DVM

13833 S. 71 Hwy

Grandview, MO  64030

(816) 356-4700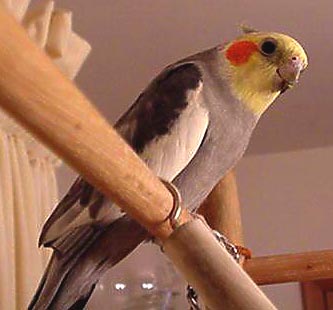 Lance Turpin looks down upon the world, king of all he surveys.  He just celebrated his 20th birthday, and doesn't look a day over 12!