Updated On: 11/1/2008
The Big Birds

Sweet, but with big scary beaks!

SEE YOUR BIRD'S PICTURE ON THIS PAGE!  JUST EMAIL YOUR PHOTO TO BURGEBIRDSERV@KC.RR.COM, OR ASK US TO TAKE A PHOTO WITH OUR DIGITAL CAMERA NEXT TIME WE SEE YOUR BIRD.

(SORRY, THIS PAGE IS FOR OUR PATIENTS ONLY.)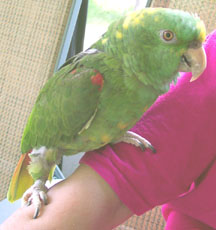 Poco Mayo was always thought to be a Yellow Naped Amazon.  But according to a recent article in "Bird Talk Magazine", she may be a rare Hondurensis Amazon!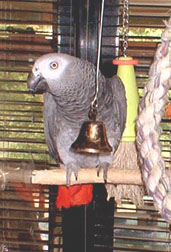 Cloie Fidler is glaring at the bird nurse, who is approaching with the towel.  She suddenly realized that the bell is not useful for hiding behind.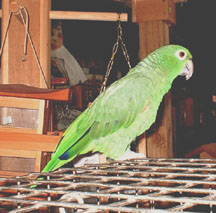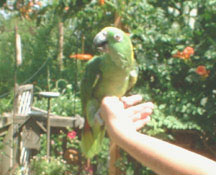 Marilyn Stone the Yellow Naped Amazon can finally enjoy the outdoors with all the lovely flowers again since getting her wings trimmed.

Hodgie is a Mealy Amazon that puts the term "Wild Bird" into the Wild Bird Store on Noland Road.  He works there watching for shoplifters.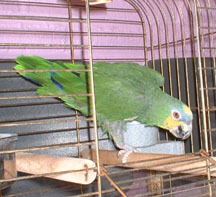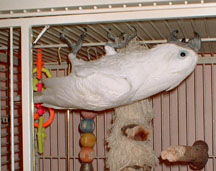 Lester Bernhardt visits us at bird camp when Mom goes out of town.  He once survived a fire at the doctor's house, but he doesn't seem grateful that she rescued him first.

Even though he went upside down in his efforts to escape, the bird nurse soon had Toby Krawl bundled like a bird burrito and ready for his trimming.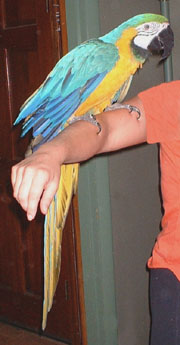 This is Ben Holt, the bird that we have been seeing longer than any other bird in town.  He first met the bird doctor in November 1991 and has despised her ever since.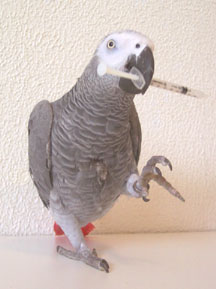 Frank Coleman is very cooperative about taking his medication.  He even gets the syringe and measures out the correct dosage!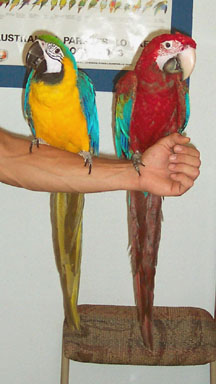 Prissy Anderson, the Blue and Gold, turns her back on her new little brother, the Green Wing, and refuses to help name him.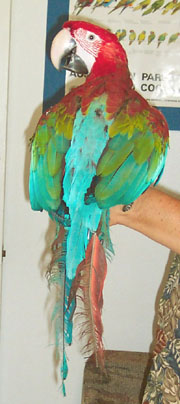 Poor Cab Fitzgerald suffers from that humiliating disease known as "baby tail", caused by being a typical young bird who cares little about his appearance.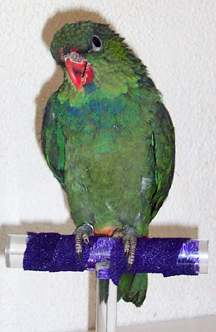 Kasey Corcoran is a Coral Billed Pionus, the only bird of this species we see.  Pionus are much quieter than most other large parrots.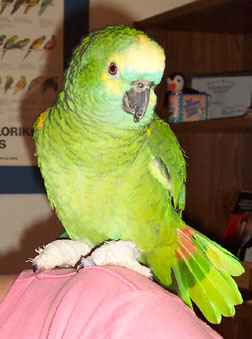 Maxie Seifert gets to wear little "snowboot" bandages every year or two when she starts chewing the skin off her feet.  She is pretty good about the whole process and enjoys the extra attention.

Burge Bird Services

Julie Burge, DVM

13833 S. 71 Hwy

Grandview, MO  64030

(816) 356-4700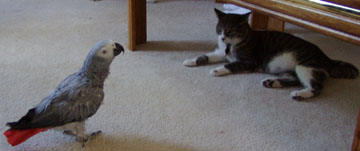 Kaytee Lawson eyes Bentley the cat, knowing that his claws and teeth could be lethal weapons.  They were well supervised, and no battle occured.  For information on what to do if your dog or cat has attacked your bird, see our emergency page.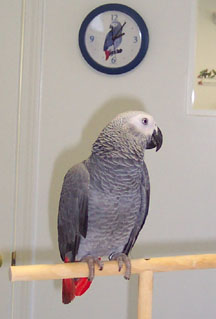 Bisa Goodman checks the time on the African Grey clock behind him, wondering if he will be home in time to watch his favorite show on Animal Planet.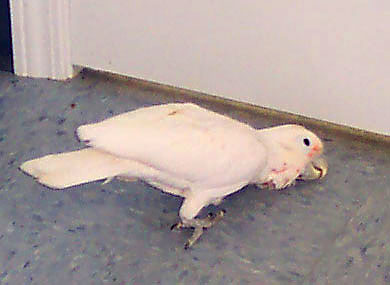 Bob Tallman the Goffin Cockatoo wonders if he can squeeze himself under the exam room door to escape being trimmed.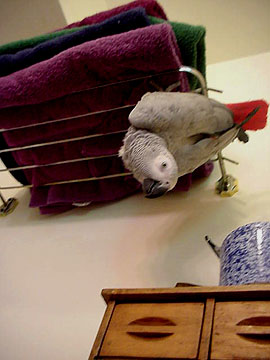 Apparently the bath water was a bit too cold, and Garth Papineau ended up hanging upside down from the towel rack after dipping her toes into the chilly tub.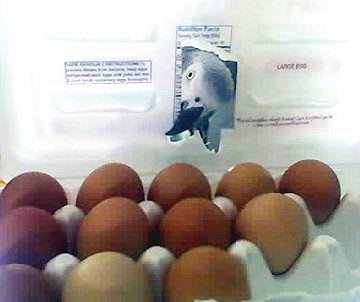 Gordon Papineau chews into a box for fun as usual, and discovers it is an egg carton.  Fortunately, they are all brown eggs, so he knows they aren't his kids.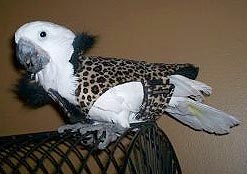 Here's Bellah Church, dressed in her leopard print party coat, ready for a night on the town.  The faux fur collar makes a nice statement about protecting animals by boycotting real fur.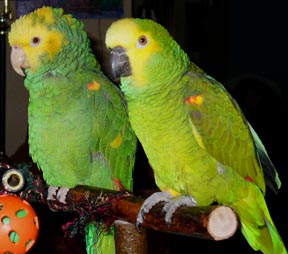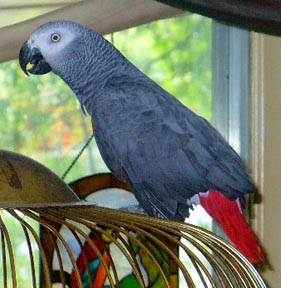 Toby the Double Yellow Head Amazon, Jackie the Blue Front Amazon, and Alex the African Grey live in the Campbell household.  All three were adopted thru our rescue program when their previous owners couldn't or didn't want to keep them any more.  See our website at http://BurgeBirdRescue.homestead.com for info on other birds up for adoption.