Third trip to Baton Rouge

October 8 and 9, 2005

It is amazing how much easier the 13 hour trip to Baton Rouge is when there are three people sharing the driving of one vehicle!  Added to that was the convenience of having an onboard bathroom and beds for three people in the supervan we borrowed from Dr. Penny Montgomery.  We probably set a record for the least number of stops on a nearly 1000 mile trip as we would only leave the highway if the gas tank was nearly empty or the driver's bladder was full. 

Sandy Brown, a long time client of mine, and Jen Lehr, a Kansas State University veterinary student in her final few months of school, went along for the tropical Louisiana vacation.  Things weren't entirely as I had described, as the weather had cooled down slightly from the 95 degrees and 95 percent humidity I experienced on my first two trips.  They didn't seem disappointed that the clouds of "lovebugs" I promised them would get into everything they own were nowhere to be seen.  I don't know the actual name of these annoying wasp-sized creatures, but they are called lovebugs by the locals because you always see them attached to each other in a romantic position as they awkwardly fly into your face.

We headed out of Kansas City on Friday, October 7, around 2:00 pm, and arrived in Baton Rouge at 3:00 am.  We had our beds ready in the van, and got about 4.5 hours of sleep.  Once we woke up, it was right to work.  There were about 200 birds, 100 cages, and a few million chores to do.  It turned out to be a busy place at Donna Powell's house that weekend as a lot of extra volunteers showed up to get some big projects done.  I do not even know who everybody was as there were no formal introductions, although there were now name tags so at least you could see their first names.  Several of us met at the dry erase board for assignments, so each room of birds was assured of having someone in charge of their care.

Pictured from the left are the people still awake and functioning at 10:00 pm on Sunday, October 9, right before we left.  They are Sandy "I will do any chore you ask" Brown of Sedalia, MO; Thad "the budgie man" Launderville of Vermont; our hostess with the mostest Donna "deserves a vacation" Powell; Nadia "organizer and motivator" Prescott of San Francisco; Charlotte "Queen of the computer" Kluza of the Phoenix Landing Foundation in Washington DC; and Jen "the birds don't bite as hard as dogs" Lehr, perky vet student turned bird doctor for the weekend.  Not pictured are Tammy "clean, clean, clean til you drop" Wilkinson of Austin TX; Dr. Fern "not here to be a doctor, just here to work" VanSant of California; Dr. Greg "the doctor without a clinic" Rich, formerly of Metairie LA where his home and hospital were destroyed; and several other people I never got a chance to chat with.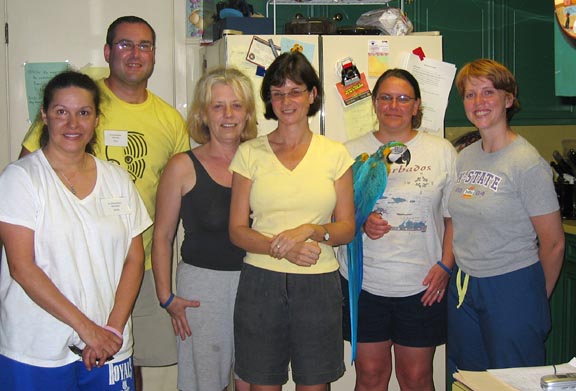 I spent most of Saturday trying to sort piles of donated medical supplies and organizing them in Donna's former linen closet. There were so many extras that I later sent boxes full of syringes and drugs with Dr. Rich to give to LSU.  I frequently stopped to put together a big storage cabinet and sets of shelves, feed and clean the hospital birds, or examine a bird after Jen found one with a problem.  I had brought along my microscope, so we had at least a little bit of testing available.  None of the birds seemed to have serious problems since all of those that did had been sent to the LSU vet school, but there were 10 or 12 birds kept in the two spare bedrooms that were designated as the intensive care units.  Everybody in the place was either feeding and watering, cleaning cages, or moving an entire room full of birds outside for fresh air and sunshine while their room was totally scrubbed down.

It was a luxury on this weekend to have so many people there, because Donna was able to have time to cook breakfast for a dozen people.  It was technically brunch since we didn't eat until around 10 or 11, but a hot, home cooked meal was refreshing compared to my other trips when we only ate at night.  I took everyone who could go out for a Chinese and sushi dinner that evening since some of them had been there for two weeks and had rarely left the house.  We had a good time watching Sandy try sushi for the first time, and she managed to actually leave the room before she had to spit it out into a napkin.  : )  Neil had told her to eat the whole piece in one bite, and I would have stopped her had I known in time.  No offense, Sandy, we love you!

Gizmo was our old man cockatiel in the ICU.  He had an overgrown beak which we trimmed so he would look good for his portrait, no tail feathers, and had barely been able to perch when he first came in.  His feathers were discolored with age, but he felt good enough to flirt with the female cockatiel in the next cage.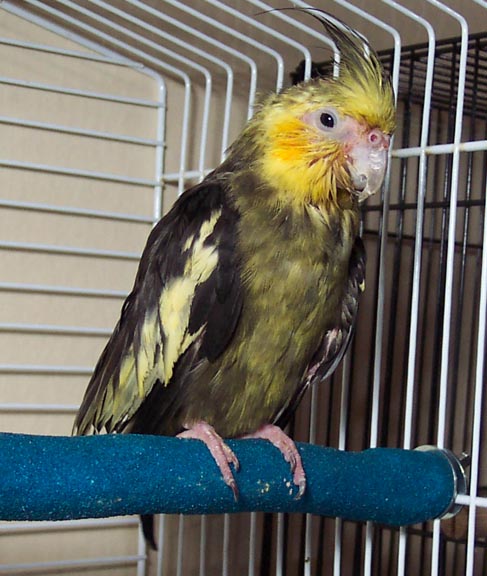 After a great night's sleep in the van that I was now planning to steal and keep forever, we jumped back into the chores on Sunday morning.  A different room full of birds was moved outside, and Dr. VanSant started an enormous project to clear out the huge tent in the back yard and organize all of the extra cages and toys so they would be easy to find.  Jen worked all morning with Dr. Rich, showing him all the birds we had noticed having problems, and she organized the treatment book, updating everything we knew about the birds that had been worked on.  In the afternoon she made tags for every cage telling what type of food the birds should have and how many dishes needed to be in the cage when there were multiple birds housed together.  Sandy was doing something different every time I saw her as she was always willing to help out when someone asked. 

I spent most of my day taking photographs of every bird in the place and taking notes about their identities.  Unfortunately, nobody realized at the beginning of the hurricane ordeal that over 200 birds would find their way into Donna's house.  It was easy to know which birds came from which rescue operation when there were less than 100 of them and Donna had been present for most of their rescues or knew the owners.  Now there were birds that had been transferred from various shelters, and many different people had been helping out with their care.  Apparently, some well-meaning volunteers had decided that some single birds were lonely, and put another single bird from a different owner in the same cage, not always moving the cage tag when they did so.  In other cases, birds that someone felt were too crowded were divided up or moved into a larger cage, and once again they forgot to label them.  It was impossible for anyone to supervise the actions of every single person who came to help.

This created a huge headache for Charlotte, Donna, and me as the three of us spent several hours going from cage to cage with the laptop and every piece of paper we could find with bird and owner information on it.  We managed to identify about 90% of the birds, and all of the information we have found so far has been posted on Petfinder.com so owners can be reunited with their pets.

This little guy was found after the owner requested rescue of his African Grey Parrot.  He did not mention the cage of 35 budgies in the garage.  The team went in and could not find the Grey or its cage since it had apparently been rescued or stolen by someone else, but while searching the entire house, they found the flight cage of budgies in the completely dark garage.  All of the birds were dead except this one, who had survived in total darkness by eating his dead companions.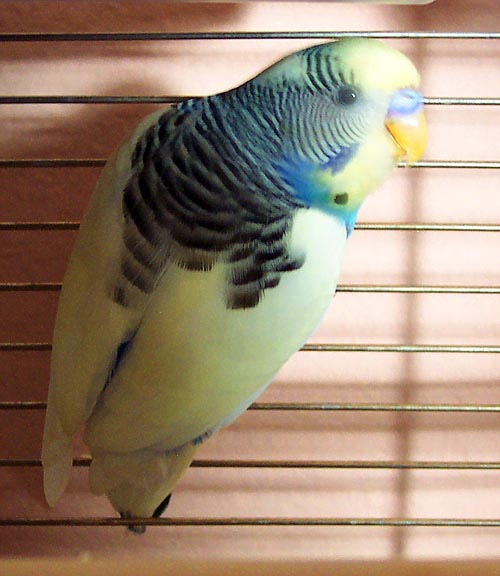 I was able to accomplish all three major tasks I had hoped to finish by the end of our two days.  I organized the medical supplies, photographed every bird, and did as much as I could with identifying the birds.  Jen accomplished organizing the treatment notebook, labeling each cage with proper diet and number of dishes, and learned about working with different veterinarians.  It turns out that every veterinarian who worked on the birds there had a different treatment plan and would use different medications.  Sandy accomplished about 50 different things, and somehow managed to take about 150 photos in between chores. 

Unfortunately, all of the volunteers left over the next few days, and as of the end of October, Donna and Neil were having to take care of things without any help.  I would encourage anyone who can spare even a couple of days to go there and help these birds.  Please contact me at BurgeBirdServ@cs.com for information.

Below are a couple of Sandy's pictures since my camera was filled with the individual bird photos and I couldn't download them to free up any space.

Here are some of the birds enjoying the fresh air and sunshine while their room was thoroughly scrubbed.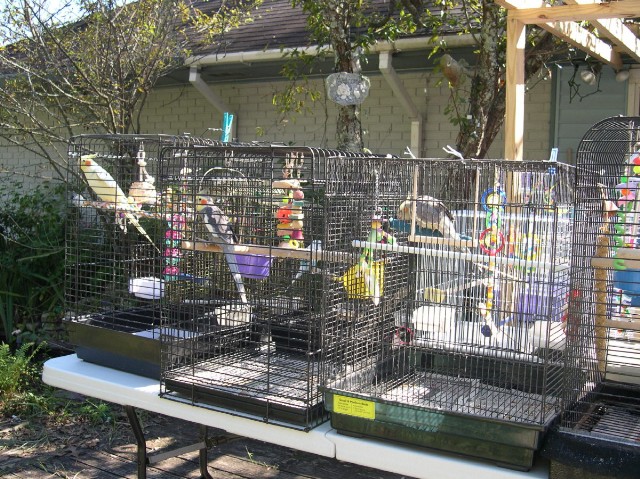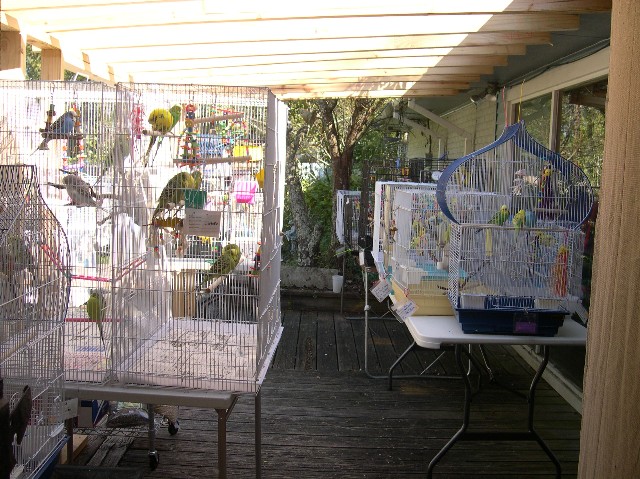 Some things had changed since my second visit two weeks earlier.  Many of the birds I had met previously had gone home, but new ones had taken their place.  The living room was now the storage area for large bags of food, and there were at least a dozen 20 to 50 pound bags.  Smaller packages of food were packed into the plastic containers I had purchased during the last trip, or were stored in the new freezer our donated money had purchased.  To add to the piles of goods that were already cluttering up every space, a truck arrived with 3 huge macaw sized cages.  These had been shipped weeks earlier, but had been stalled by the influx of supplies and road closures, and had been sitting in some warehouse.  Dr. Rich took one home to house one of his long term boarders, and a couple of volunteers put together another one so they could move the macaws in Donna's house into larger accommodations.

Next to the dry erase board, Jen and Nadia created instruction posters to tell how to feed, water, and clean the birds.  Cleaning supplies were moved into a new big storage cabinet so anyone who needed something could find it.  All rooms containing birds were organized with folding tables and instant hand sanitizer everywhere.  There were plastic containers of seed and pellets in each room suitable for the birds that were housed there.  While there was always laundry to be done thanks to all the bird towels, at least the trash cans were no longer overflowing, and there was plenty of toilet paper.  The chaos that ruled at the beginning of the ordeal was coming under control.  Even some yard work had been done, so the branches left by two hurricanes were gone.

I would not say that life had returned to normal at Donna Powell's home 6 weeks after Katrina, but at least there was now a routine.  All that is needed is continued support in the form of volunteers.  Dr. VanSant and I discussed our plans to formulate a strategy for the future of bird rescue operations.  We learned so much from this experience, and hope to help others learn from the mistakes we all made.  It is our desire that the Association of Avian Veterinarians will be able to develop a plan so that we can help the birds in the next disaster in a more organized fashion.  We hope that no individual has to completely surrender their home and life to do this like Donna and Neil Powell have.