FOURTH TRIP TO LOUISIANA: THE REUNION PHASE

NOVEMBER 25 TO 29, 2005

This trip was all about reuniting more birds with their owners, and giving Donna and Neil a break from doing all the work themselves.  There had only been a couple of people helping for a few days since mid-October.  Everyone had used up their vacation time and their spare money on earlier trips.  We were only able to go thanks once again to the generous donations we received.

I spent almost every waking hour in front of my laptop computer, surrounded by stacks and stacks of papers.  Vicki spent all of her time feeding, watering, cleaning cages, doing laundry, and walking around the yard picking up stray items that had been left by someone who just never found time to finish what they had started.  Here is Vicki trying to make sure Neil doesn't have to wear the same pair of shorts for any more days in a row!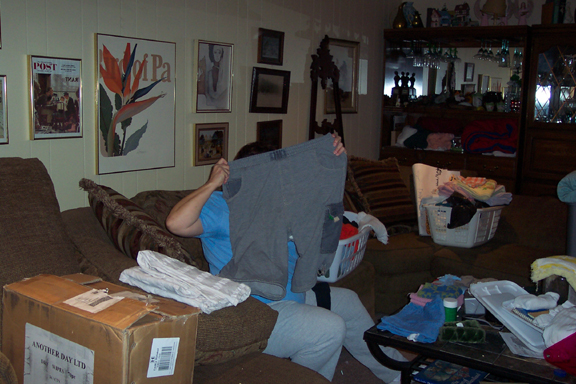 Three months after Katrina, I began hearing the phrase "Katrina Fatigue" on the radio.  Sure, some people are tired of donating and hearing the sad stories, but what if your home was still filled with other people's birds and you had almost no help?  Here are photos of the rooms shown during previous trips, still with all the furniture moved out, still with over 150 birds to feed and water and dozens and dozens of cages to clean.

The carport that won't hold a car.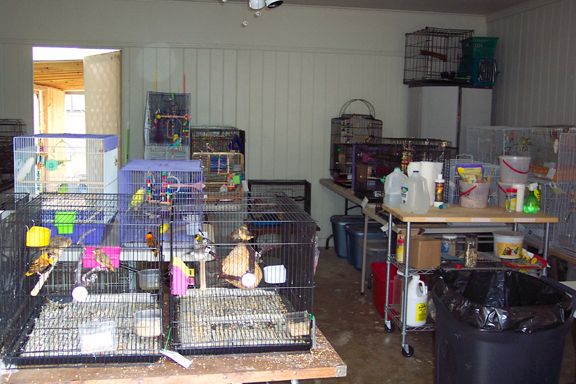 You can actually sit at the kitchen table now, with a couple of little birds for company.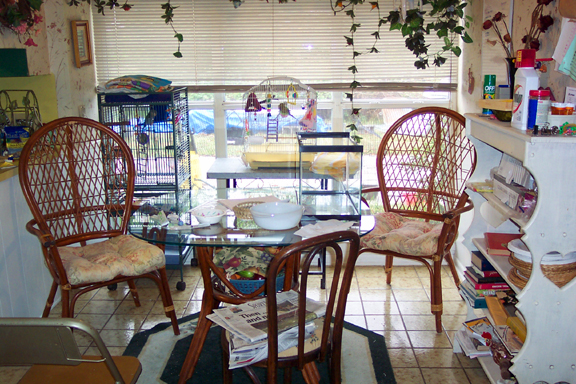 Still only birds dining in the dining room.

The sofa is still upended in one corner, and there is no sitting in the living room.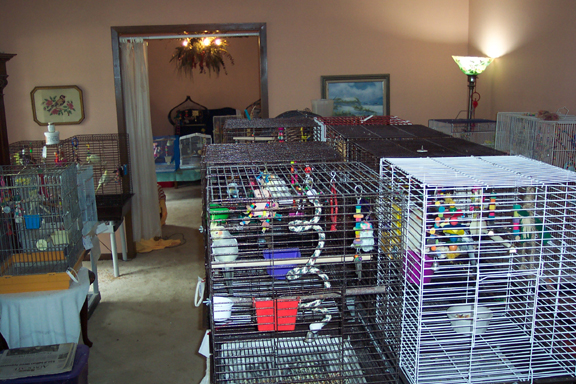 At least there are no longer any birds in the hallway, bedrooms or bathroom, other than a couple that need special care down in the back hallway.  It is even possible to find a chair and to walk easily in the sunroom.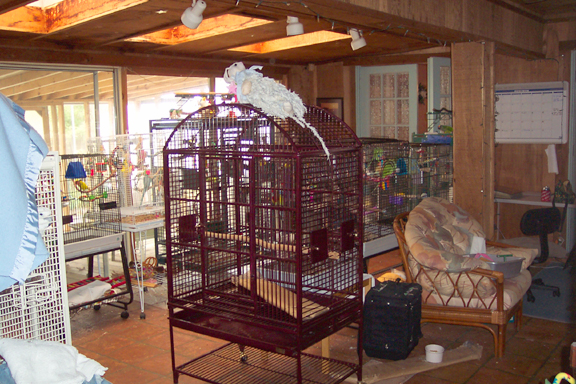 Out in the back yard were two big tents still partly full of supplies.  These extra goods made it possible to send every bird home with a nice new cage, lots of toys, cuttlebones, and everything the owners would need for a long time.  One less thing for them to worry about while they tried to get thier lives back in order.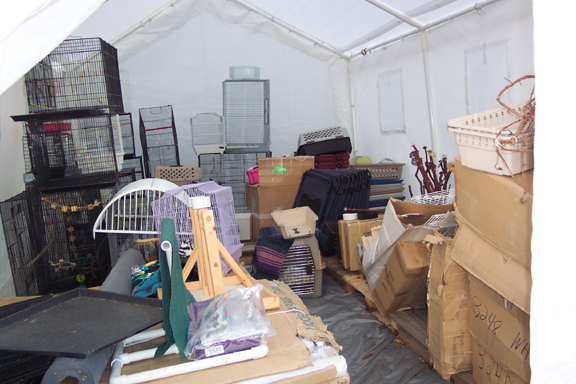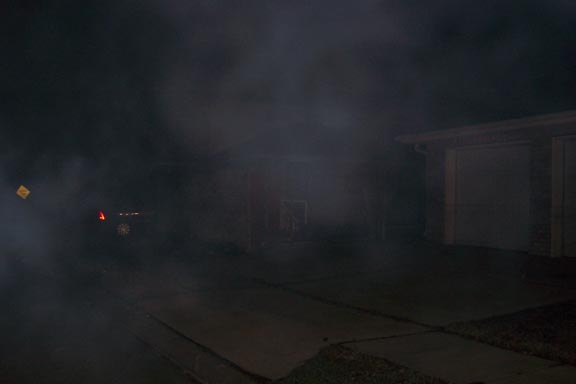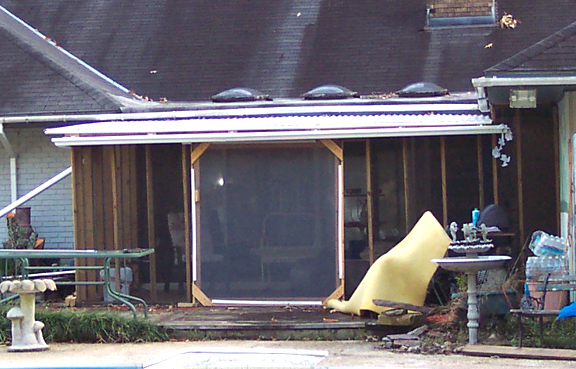 Supplies had been donated to build an aviary to house some of the birds long term until the owners were able to get them back, but it so far has not materialized as a separate building.  Volunteers built this screened in porch on the back of the sunroom, but raccoons were able to tear thru the screen at night, so birds could only be out there during the day.

On the afternoon of our second day, we had all worked so hard that we decided that all four of us would ride into New Orleans to deliver a bird to an owner who had no transportation.  I will show reunion photos on the next page.  After delivering the bird, we drove around to check on a couple of addresses where we had been unable to contact the owners.  It was incredibly dark and strange when we drove into a neighborhood full of houses, with no people and no lights.  I think what looks like fog in this picture is either exhaust from the van or my lens is dirty!

We headed in to the heart of New Orleans to have dinner on Bourbon Street, both to help support the local economy and to give Donna a treat for her birthday.  There were a few people out, and the strip clubs and bars had the typical loud music pouring out.  There seemed to be as many police officers as tourists, and many of them had New York uniforms.