GATHERING DONATIONS OF MONEY AND SUPPLIES

SEPTEMBER 7 TO 9, 2005,

AND THE LONG DRIVE DOWN

Suddenly, once the decision to go had been made, we now had less than 48 hours to gather supplies and monetary donations.  After mentioning the trip to just a few clients and without even sending out an email newsletter, money and phone calls started pouring in.  It will be impossible for us to list all of the generous donors who helped with money, cages, phone calls and packing, especially since we did not have a record of every single person who made a cash donation, as many of them dropped cash into the basket on our counter.  The following list is not in any particular order, and we have chosen not to list the exact amounts given by each person or organization.  Everyone gave according to what they could manage, and every dollar and item helped the birds.  If I have left someone off the list, please email me so I can correct this oversight.

ALL STAR PET SUPPLY







DEVENA HARDWICK
PETCO OF INDEPENDENCE






SANDRA BROWN
THE CLIENTS OF CURVES IN PECULIAR


  PAUL & ANITA SKEHEN
THE PET BIRD CLUB








DIANA WONNELL
MIKE OLENDER CONSTRUCTION




MELODY RUDOLPH
JON GRASSER









   TONI TURPIN
HEIDI SZATKOWSKI








  LAURA MCKITTRICK
CAROLYN ROMONDO







   DONNA HILL
LYNN HOLT









         KAREN KLINE
SHARI HAYES










JANI KENNEDY
DINAH BROOKS









  SUSAN ETTER
JEN & RUSS LOWNIE








ANN ZARR
KATHY CORDRY









  NANCY GRAHAM
RITA ANN COMFORT








DEBRA COOK
JOHN & ROSEMARY SEALS






MARGARET FIDLER
MARGARET BJELICA








GREG CHOLLET
JANET & LYLE MUSSMAN






  RON & RENEE HARTMAN
JEAN EILER










  PENNY MONTGOMERY
NICOLE FEARCE









HAROLD DELFENTHAL
BONNIE HARVEY









LISA PETERSON
MARIE MARROQUIN







KURT & JENNIFER
GAY REEDY










        HAMMETT
SUE HAGERMAN









THE GREATER KANSAS
CAROL GROMELSKI









CITY AVICULTURAL
THERESA SHEARMAN








   SOCIETY
DEBBIE MORRISS









FRANCES EZER
NANCY WILLIS









    MAURICE & LEANNA
PUNKY MCDANIEL









   HOLDGRAF
ROBERTA DURBIN








    ANN DEY
ED & LOU STRATEMEIER

BRIAN & CHERYL CASEMENT

SUE GOLDMAN

BECKY BARBER

THE MONEY DONATED PRIOR TO OUR DEPARTURE CAME TO OVER $1700, AND MORE CAME IN AFTERWARD!  SEE THE LATER PAGE FOR UPDATED TOTALS AND DETAILS OF HOW THE MONEY WAS SPENT.  WE GOT A FEW QUICK PICTURES OF OUR PREPARATIONS.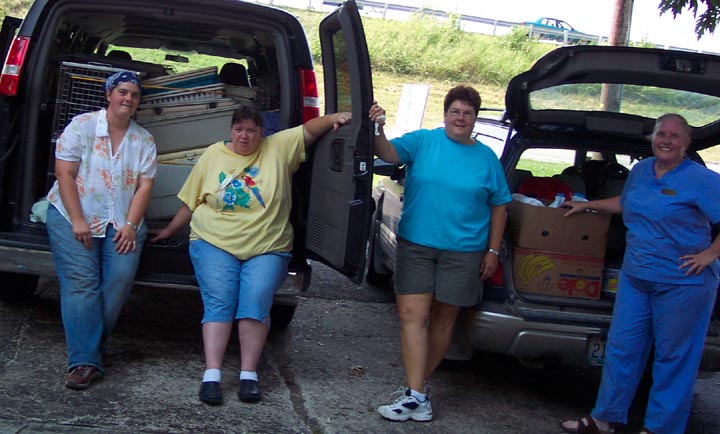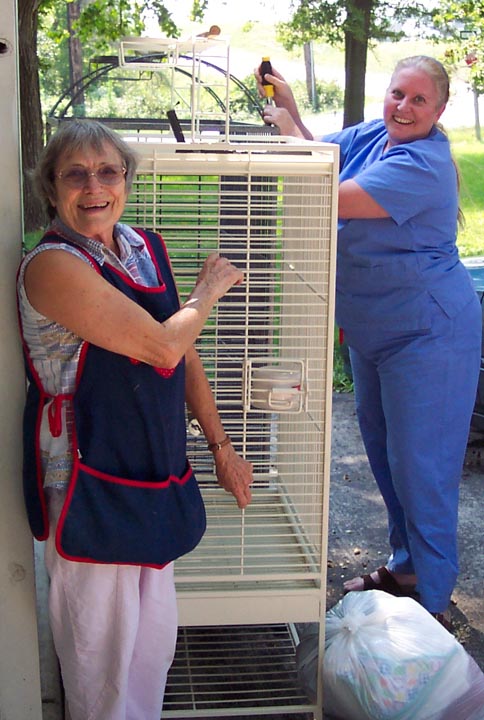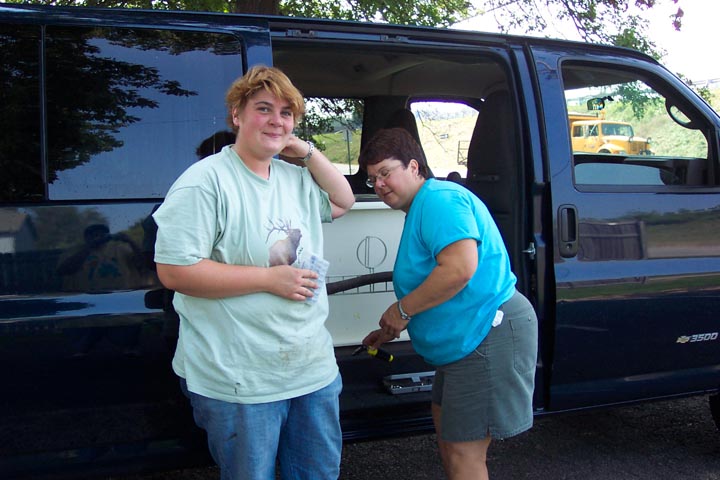 Punky and Dr. Julie dismantle the top of a large cage so it will fit better into the van.  Dr. Julie did not realize that the comfortable scrubs she chose to wear for the drive would be her outfit for the next 48 hours!

Elizabeth Berg showed up with her mom Vicki and said she wanted to go with us and help.  She proved to be very useful as her younger body got around easier inside the van while the rest of us made her stay in there as we kept handing her more stuff to squeeze in to every nook and cranny.

Unsuspecting client Nicole showed up to visit the baby conure she is buying while we were packing and was immediately put to work.  Meanwhile, bird nurse Julie Morriss kept track of everything she had organized and packed for us to take.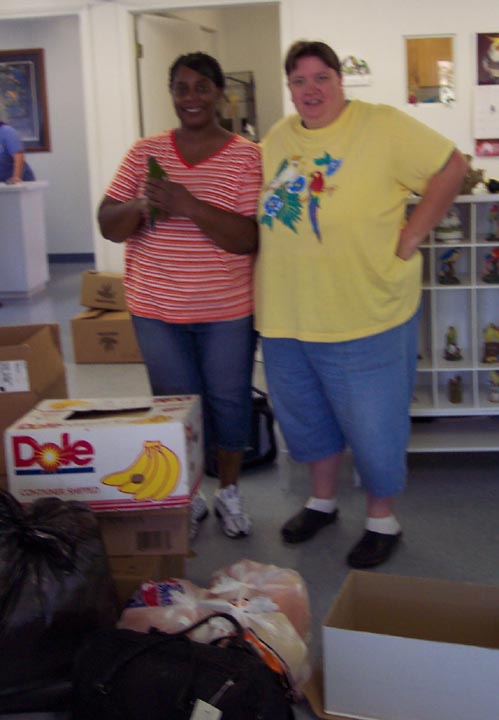 The four "fat chicks" pose for a final shot before Elizabeth, Vicki, and Dr. Julie hit the long road, leaving nurse Julie behind to run the clinic.  We may look perky now, but 15 hours of driving all night left us feeling a bit road weary.  Turns out we should have followed the MapQuest suggestion of driving I-70 to St. Louis, then taking I-55 to Baton Rouge.  Those winding country highways that looked like a much shorter route were tedious at 4:00 in the morning.  Our plan of two people in one smaller van had become 3 people, an SUV, and a 15 passenger supervan with the seats removed to make room for 3 big macaw cages that wouldn't come apart.  The cages were crammed full of bird food, towels, smaller cages, medical supplies, and bedding, and we had 6 crates of new cages in there too.  The SUV carried our food, clothing, water, and many of the items the rescuers had requested like bleach and paper towels.