WILL MY BIRD GET MITES OR LICE?

CLOSE THIS PAGE TO RETURN TO OTHER QUESTIONS

It is not common for pet birds to get lice or mites unless they are exposed to birds outside. Those bugs are so tiny it is usually very hard to see them, and they tend to stay hidden under feathers or somewhere in the cage most of the time. If you are seeing dark spots on the top of the head, it may be that your bird is molting and growing new feathers there. These new feathers, often called pin feathers or blood feathers, will have a wrapping around them that protects them while they grow. Since a bird cannot reach its own head feathers to preen and remove these wrappings, it may look like little black or white spots.

Only two types of mites are common in pet birds.  Scaly face and leg mites, or Cnemodecoptes, are occasionally seen on parakeets and canaries.  Air sac mites may live inside the respiratory system of finches and canaries, causing breathing problems.  If your bird does have mites, an experienced avian veterinarian can easily treat it with a drug called Ivermectin. Although there are sprays available at pet stores for some types of these bugs, the Ivermectin is safer and more effective.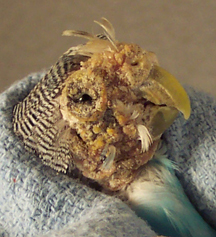 This is a budgie with Cnemodecoptes mites.  She is currently being treated with Ivermectin.  We more commonly see this mite affecting the beak, causing overgrowth and deformity.

Burge Bird Services

Julie Burge, DVM

13833 S. 71 Hwy

Grandview, MO 64030

(816) 356-4700

http://BurgeBirdServices.homestead.com